We partnered with St. Croix Hospice to give our caregivers additional Dementia training. One caregiver had to be blindfolded and put together a puzzle with directions from their partner, their partner was not able to touch any of the pieces-they could only describe where the pieces were and where they went to. After 5 minutes of putting together the puzzle, they switched so the other person was blindfolded. Instead of putting together a puzzle, they had to use kitchen tongs to sort through a bucket of beads to find the flower bead and pick it up with the tongs and move it into the empty bucket, again only with verbal directions from their partner, their partner could not touch either bucket or tongs. The caregivers learned a lot and had fun while learning how to provide the best care they can to our Residents.
Michelle Van Gorkom
March 14, 2019
Whats a fun thing to do on a rainy day? BOWLING!!!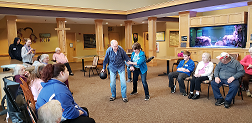 Michelle Van Gorkom
February 07, 2019
With all the snow coming down outside we are staying inside and playing bocce ball with the SCIP kids today!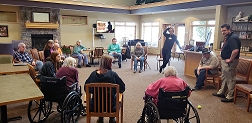 Michelle Van Gorkom
January 30, 2019
Here is our Activities for the Month of February
Michelle Van Gorkom
January 16, 2019
We love our Bickford Family!

Activity Calendar
Sample Calendar
10:00am Manicures
10:30am Balloom VB
1:00pm Meijer Shopping
2:00pm Manicures
3:00pm Music with Janice
4:00pm Heads Up!
Our purpose is to do whatever it takes to make our residents happy.

Understanding your core needs allows us to know the pathway we must take to make you happy. We have identified three specific Core Needs that must be met to enrich happiness — Basic Needs, Care Needs & Unrecognized Needs.
Contact us to book a tour
or request more information.
Bickford of North Branch Assisted Living & Memory Care 657-674-0068